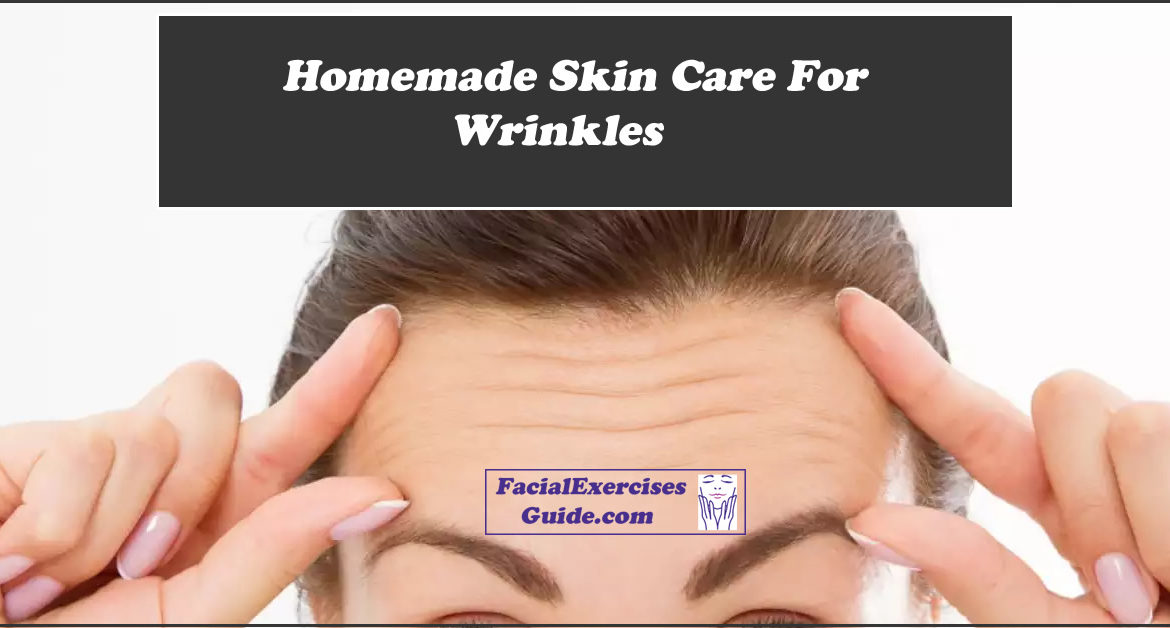 Aging Skin And Wrinkles
The aging process eventually creeps up on all of us and, for many people, the shock of seeing an aging reflection in the mirror, where there was once a more youthful-looking person, can be hard to deal with.
On spotting those first signs of aging, such as fine lines around the eyes and mouth, or along the forehead, some people panic and start to throw money at products or surgical procedures in an attempt to hold off the years.
When you begin to research anti wrinkle products it's easy to fall into the trap of thinking that the best products cost more money. The truth is, there's no need to spend a fortune on skin care products for wrinkles because nature provides us with all we need to maintain the health and appearance of our skin.
There are many natural remedies for wrinkles that you can make at home easily and, once you've bought a few basic ingredients, you'll find that your natural products are cost-effective as well as being good for your skin.
Natural Skin Care For Wrinkles
The key to youthful skin is cellular regeneration – you can help the process along by eating healthily and avoiding alcohol, cigarettes and the sun – and there are many natural ingredients that facilitate the cellular regeneration process.
The following list of natural remedies for wrinkles can help you to maintain a glowing, youthful appearance without the need for spending vast amounts of money.
---
1. Essential Oils
There are several essential oils that work well on wrinkles; if you start early enough they may also help to prevent the formation of wrinkles in the first place.
The best essential oils for wrinkles are:
Rose
Neroli
Frankincense
Carrot
Geranium
Lavender
Palma rosa
Lemon
Lime
Rose, neroli and frankincense essential oils tend to be expensive, but you can buy them more cheaply as a dilution – this simply means that the pure, essential oil has been diluted in a base oil. The other oils in the list are generally less expensive and equally effective.
You can use any of these oils individually, or you can blend them together to make your own uniquely fragranced products.
Use them to make facial oils that can be applied to the skin as a moisturizing treatment, or in the bath, to nourish the skin on the rest of your body.
Essential oils must never be applied directly onto the skin; make sure that you dilute pure essential oils in a base oil such as olive, sweet almond or grapseed oil.
The general recommended ratio is 1 drop pure essential oil to 1ml base oil – i.e. if making up 10 ml of facial oil add 10 drops of pure essential oil.
---
2. Extra-Virgin Olive Oil
Olive oil can be used internally and externally to help prevent wrinkles.
It's possible to buy fragranced, cosmetic olive oil from most chemists, otherwise you can buy regular olive oil from any grocery store and add essential oils to it if you prefer, or even just use it as it is.
Adding the type of olive oil that is safe to consume (never consume fragranced/cosmetic olive oil) to your diet can help to prevent skin cell damage.
This is because olive oil is naturally high in monounsaturated fats, vitamin E and other anti-oxidants, all of which are known to help keep skin looking young.
Olive oil can be used to make healthy salad dressings or, if you can tolerate it, can be taken neat – up to one tablespoon per day.
If you would like to use olive oil externally, you can apply it neat to your face and use as a facial moisturizer. To allow your skin to soak up the anti-aging properties of olive oil try the following:
Prepare a bowl of boiling water
Drape a towel over your head to cover the bowl of water and create a steam tent
Steam your face for 5 – 10 minutes
Gently massage the olive oil into your still damp skin with your fingertips
---
3. Papaya
Papaya fruit is rich in those skin-friendly antioxidants vitamins A, C and E making it an excellent internal and external anti-wrinkle skin care ingredient.
It also contains enzymes that encourage cellular regeneration, thus helping to reduce the appearance of wrinkles by encouraging the growth of more vibrant looking new skin cells.
Using papaya as a home remedy is simple and easy, you can include papaya as a regular part of your anti-aging diet and benefit from all those anti-wrinkle vitamins, or you can simply scoop out the papaya flesh from the skin and apply it to your face as a mask.
It's that easy, but it's better to leave papaya on your skin for a maximum of 5 minutes to avoid skin irritation.